Thalia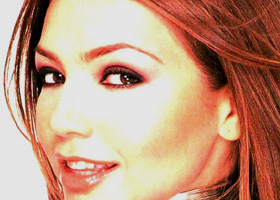 Real name: Maria Ariadna Thalia Sodi Miranda
Birthday: August 26, 1971
Sign: Virgo
Birthplace: Mexico City, Mexico

Sexy Mexican pop princess Thalia began her career at the age of 10 singing in the children's group Din Din. At the age of 15 she joined the popular teen group Timibiriche. Her TV career began on the show "Quincenera" the first novela geared towards children. Still a teen, Thalia made the move to Los Angeles where she teamed up with producer Alfredo Diaz Ordaz. She released her self-titled debut album in 1989, followed by "Mundo de Cristal" and "Love".

In the 1990s Thalia became an international television star after performing in three hugely popular soap operas, "Maria Mercedes," "Marimar" and "María La Del Barrio". In the mid-90s she began working with Emilio Estefan and her solo singing career really took off. Known for her curvaceous body and sultry dance moves Thalia was as much of a hit in music videos as she was on the radio.

Thalia made headlines at the dawn of the millennium with her high profile wedding to Sony Records mogul Tommy Mottola. In 2002, her sisters, actress Laura Zapata, and Ernestina Sodi were kidnapped and held for ransom. The pair were returned safely a few weeks later.