Aguilera, Christina



Fun Facts: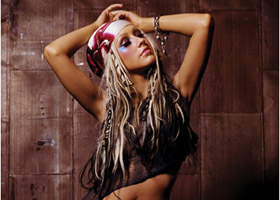 Birthday: December 18, 1980
Sign: Sagittarius
Place of Birth: Staten Island, NY, USA
Real Name: Christina Maria Aguilera
Likes: Baseball, hanging out with friends, shopping

The slender blonde with the big, big voice has been entertaining audiences since she was a child. She appeared on the television show "Star Search" in 1988 where she tied with her opponent, and ultimately lost when the judges broke the tie. She fared better in 1992 as a regular on "The Mickey Mouse Club" a television show which also produced future teen pop stars Britney Spears and Justin Timberlake.

In 1999 Christina rocketed to world stardom with her debut album "Christina" which contained the hits "What a Girl Wants" and "Genie in a Bottle". The album earned her a Grammy for Best New Artist of that year.

Christina, whose father is Ecuadoran, released her first Spanish album, "Mi Reflejo" in 2000. Said Christina, "I've always been proud of my Ecuadoran heritage. Recording a Spanish album and working with a great producer like Rudy Perez, gave me a chance to explore my Latin side." Many of the songs were translations of her hits from her English album and she had to learn the lyrics phonetically since she does not speak Spanish. Christina also went on to record duets with Latin Pop stars Ricky Martin and Luis Fonsi.

In 2002, Christina released "Stripped" an album in English that reflects her transition from teen to young woman. Now that her voice (and her body!) has matured, Christina is making records that will break her out of the pop mold and challenge her as an artist. Like Madonna and, dare we say it even Cher, Christina's risqué costumes and sexy on-stage moves will also continue to push the envelope of expressing exactly what a girl wants.