Estefan, Gloria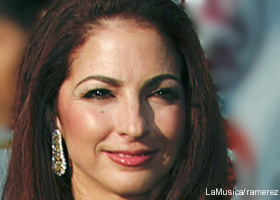 Facts:
Real Name: Gloria Maria Milagrosa Fajardo
Birthday: September 1, 1957
Birthplace: Havana, Cuba
Children: (Nayib, b. 1980 and Emily, b. 1994)
Favorite Color: Blue
Favorite Movie: Wizard of Oz

Gloria (Fajardo) Estefan, along with her family, fled Cuba in 1959 when she was just a toddler. Growing up in difficult circumstances in Miami, Gloria found solace in music, falling in love with the Cuban songs taught to her by her grandmother. Miami bandleader Emilio Estefan, Jr. invited the teenaged Gloria to join his group, "The Miami Latin Boys" after hearing her sing at a 1975 wedding. The two married in 1979 as the band began to gain notice among Spanish speaking audiences in the U.S. and Latin America.

Success struck for Gloria and Emilio after the group changed their name to The Miami Sound Machine and changed their music to include dance music sung in English, but with a Latin flair. During the 80s the group gained international fame with hits like "Conga', "1-2-3", and "Rhythm is Gonna Get You".

In 1990, Gloria suffered a terrible tragedy when her tour bus was hit by a speeding truck. After a painful rehabilitation and with two metal rods in her spine, Gloria returned to the concert stage with the aptly titled song "Coming Out of the Dark" from her similarly named 1991 album "Into the Light".

In 1993, Gloria recorded her love letter to her native Cuba, the Grammy-award winning "Mi Tierra." She followed with 1995's "Abriendo Puertas," and 2000's "Alma Caribeña" both of which have kept her at the top of the Latin Music charts.

By the end of the millennium, Gloria had sold over 50 million records worldwide. She also branched out to acting by appearing in the film "Music at the Heart" and the television film "The Arturo Sandoval Story".

Gloria and Emilio's business empire Estefan Enterprises continues to grow with restaurants, a hotel, television ventures, a recording studio and record company. Gloria has also been honored for her extensive charity work including charity performances and fundraising for AIDs, child welfare, and arts education. She worked tirelessly to help Miami recover from the devastating effects of Hurricane Andrew by organizing a charity concert that raised $3 million. She started The Gloria Estefan Foundation in 1997.