Iglesias, Enrique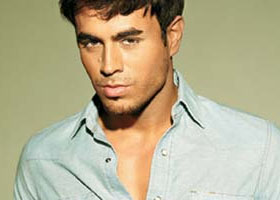 Birthplace: Madrid, Spain, raised in Miami, Florida
Birthdate: May 8, 1975
Sign: Taurus

Heartthrob singer-songwriter Enrique Iglesias started out his career determined to make it without using his famous father Julio as an easy ticket to fame. He submitted his first demos under the name Enrique Martinez without his parent's knowledge. After landing a record deal with the Fonovisa label, Enrique released his first album "Enrique Iglesias" (1996) selling more than a million copies in three months. In 1997 he released "Vivir" which quickly went multi-platinum.

Enrique was part of the wave of Spanish language artists crossing over to the general market at the close of the century, signing a lucrative deal with Interscope records. His first English album, "Enrique" was a huge success. In 2001 he released "Escape" which contained "Hero" which became a post 9/11 anthem. In 2002 he released "Quizás," his first Spanish album in five years. To date Enrique has sold more than 30 million records.

Living up to his sexy image, Enrique has romanced some of the world's most beautiful women including most recently Anna Kournikova. He's also well-known as a practical joker.