Ricky Martin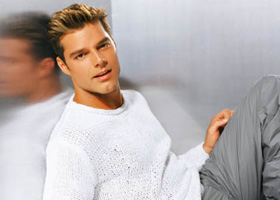 From Menudo cutie to the leading-edge superstar of the new millenium's Latin Invasion, Ricky Martin has thrilled fans around the world and across the generations. In honor of the release of "Almas de Silencio" his first Spanish album in several years, LaMusica.com is pleased to treat you to our Rickystravaganza selected from our 8 years of coverage of one of our very, very favorite artists. We've got interviews, reviews, and much more....enjoy!

More than a billion viewers in 187 countries around the world were stunned by the sheer force of Ricky Martin's eye-opening performance of "The Cup Of Life" at the 1999 Grammy Awards ceremony; "La Copa de la Vida," the official song of the World Cup France '98, had been a #1 single in more than 30 countries, but was basically known only to Latino audiences in the United States at the time.

Although Ricky Martin became a star in the eyes of U.S. audiences that night, he was already a superstar internationally, having sold more than 15 million records at the time and selling out arenas during his tours of Asia, Europe and Latin America. His story began long before his solo career.

Ricky Martin was born and raised in San Juan, Puerto Rico. He started appearing in television commercials at the age of six, and studied acting and singing throughout his school years. He wanted to join the singing group Menudo but was rejected because he was too young. In 1984, a "mature" Ricky joined the mother-of-all-boy-bands. He was twelve. His life would never be the same.

After five years of nonstop work, tours, recording, and rehearsing with the group, Ricky left in 1989, traveling first to New York, to study and reflect, and then to México, where he worked as an actor and a singer. His first solo album earned him eight gold records in México, Chile, Argentina, Puerto Rico, and the United States. After releasing his second album, "Me Amarás", Ricky moved to Los Angeles, where he became an American television heartthrob in his role as "Miguel" on "General Hospital." He went on to appear as "Marius" in the Broadway production of "Les Misérables." His third album, "A Medio Vivir," was produced by Robi Rosa and KC Porter (Bon Jovi, Boyz II Men, Richard Marx, Patti LaBelle), sold more than 600,000 in six months, and was certified gold by the RIAA on October 27, 1997. Vuelve repeated that success and was RIAA-certified gold on July 7, 1998.

After the smash success at the Grammys, Ricky released his English language album "Ricky Martin". The breakout single of the CD, "Livin' La Vida Loca" quickly became one of the year's hottest hits. The song's Spanish and English versions topped charts around the world and firmly established Ricky as a bona-fide international superstar.

His followup album "Sound Loaded" was released in 2000 and contained the hit "She Bangs". Ricky took a break after that and is expected to return to the recording scene with a new CD in 2003.