Juanes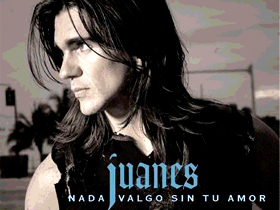 Real Name: Juan Esteban Aristizabal
Born: Medellín, Colombia
Birthday: August 9, 1972

Musical Training: Juanes learned to play guitar from his father and five brothers.

With seven Latin Grammy nominations for his first solo album, some may think that Colombian singer songwriter Juanes was an overnight success.

In truth, Juanes began his career as one of the founders of the Colombian rock group Ekhymosis. The band recorded together for eight years and released five CDs before disbanding in 1998. Guitar in hand, Juanes moved to Los Angeles to pursue his musical career. What followed was a debut album, "Fijate Bien" that made the music world sit up and take notice. Although the ceremony was cancelled because of September 11th, Juanes received two Latin Grammys in 2001. He received a third Latin Grammy the following year for the first song "A Dios Le Pido" off his follow-up CD "Juanes".

Juanes' heart still lies in his beloved Colombia, and he often speaks about his wish for peace in his country. His songs are thoughtful and clever, and his sound is solid pop/rock that never loses touch with its roots in Medillín.