Marc Anthony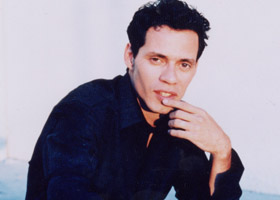 Born: Marco Antonio Muniz
Date: September 16, 1968
Birthplace: New York City, NY
Sign: Virgo (boy is he ever!)

Perhaps the most powerful voice of his generation, Marc Anthony consistently sells out venues like Madison Square Garden, has sold more records than any other salsa artist, and has established himself as a leading pop singer in the English language market. In addition to his musical versatility, Marc has appeared as an actor in several major motion pictures including "Hackers," "The Substitute," Bringing Out The Dead" and "Big Night." He also starred on Broadway in Paul Simon's musical "The Capeman".

Marc Anthony was born and raised in New York City where he was the youngest of several children. His father, Felipe, used to enjoy playing bolero music with his friends and little Marc, using the kitchen table as his stage, would perform a song or two.

When he was a teenager, Marc became a part of NY's freestyle and Latin house scene. The music with its Latin flavored electronic dance beats was popular among urban teens at the time. Marc wrote songs for the Latin Rascals, Safire, and Menudo. His first hit as a singer came with a collaboration with Little Louie Vega in 1991's "Ride on the Rhythm".

Despite his childhood fondness for his father's music, Marc was not interested in singing in Spanish until he heard the Juan Gabriel song "Hasta Te Que Conocí" while riding in a car one day. Inspired to record the song in Spanish, Marc signed a recording contract as a salsa artist. His first album "Otra Nota" was released in 1993 and Marc immediately began to win fans with his powerful voice and passionate phrasing. His follow up CD, 1995's "Todo a su Tiempo" established him as the brightest star in tropical music. 1997's "Contra La Corriente" earned him his first Grammy awards.

With the release of his self-titled English pop album in 1999, Marc attracted a new audience of English speaking fans. His next salsa recording "Libre" came out in 2001 and he released his second English pop album "Mended" was released in 2002.

Marc is married to former Miss Universe Dayanara Torres. They have one son, Cristian and Marc has a daughter Arianna from a previous relationship.